Your Home – Stage Your Home to Sell it for Top Dollar.

So you've decided to sell your home. Of course, you want to get top dollar and as a result, you're likely looking for any tiny thing you can do to your home that will make it stand out in the minds of potential buyers as they tour your home. Staging your home is a perfect way to make that difference and ensure your home does not stay on the market for too long.

The National Association of Realtors® did studies on home staging and found that it does indeed have a positive impact on the sale of a home. Realtors® have reported that the final price of staged homes they sell can increase up to 10%. Even more, the speed in which staged homes sell is something to really consider. Almost 40% of Realtors® reported in the study that a staged home sells in far less time on the market than an unstaged home. The reason for this is because buyers are more easily able to picture the home as their own when it was staged.

Now while staging is important, and you likely want to hire a professional to do it for you, if you want to give it a try on your own, here are five tips that will help you get started on the right path:

Declutter and Deep Clean

Before you start thinking about attractive knick-knacks or where to put specific pieces of furniture in your home, the most important first steps you need to take are to declutter and deep clean your entire home. Clear countertops and other surfaces, and pack away anything that is not essential.

You want to remove any possible distractions that will cause potential buyers to think of negative aspects of your home. Things like personalized decorations, family photos and other things that don't relate directly to your home or the potential buyer are great places to start. If you've accumulated a lot of furniture over the years and if you can get some of it out of your home as well, this is a perfect opportunity to make your home feel larger.

Group Furniture in Conversational Clusters

Once you've gotten rid of any unnecessary furniture in your home, the next step is to group the furniture you have in your home in conversational clusters away from the walls. The idea is to set up a flow to each room, keeping the walls clear of big furniture. Doing this actually makes your rooms look larger.

Group Your Accessories

Although you'll need to declutter, you still want your space to feel like a lived-in home. Do this by decorating with accessories like differing sized vases, books or plants. Interior designers and staging pros often recommend grouping complementary colored objects in odd number pairings of varying heights and shapes.

Add a Bold Accent

The key to successful staging is to keep the look and feel of your home neutral. That said, adding a bold accent piece or two, especially if they help highlight a particular feature of a room you want a potential buyer to notice is a fantastic idea. For instance, if you have a great entryway with a vaulted ceiling, look for a chandelier that will accentuate this feature.

Mirrors Are Your Friend

Mirrors can help brighten a dark hallway, and also make rooms seem larger. In a room with a window, place mirrors across from the window to reflect the sunlight. It will give it much more of a light airy feel.

Staging is all about helping potential buyers create an emotional connection with your home. Following these steps will help buyers picture themselves living in your home. When you do this, you'll get offers faster, and you'll find your home sells for a higher price.   Finances – Investing in Real Estate During a Pandemic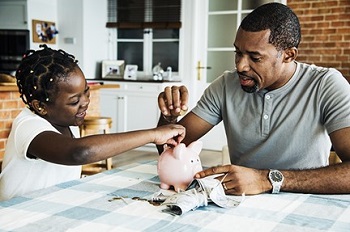 Even though the pandemic has upended many aspects of our lives, many investors are finding that now is a great time to invest in real estate. With the changes to what has now become the "new normal" there are many new rules and regulations, including in the real estate market. Here are some important things you should know before taking the leap and investing in real estate.
Real Estate Is a Reliable Investment
Historically, real estate has been a reliable investment. Even though the pandemic has created a sense of instability in many people, the truth is that home values continue to trend in a relatively normal manner. While commercial real estate is experiencing some turbulence, residential property offers many great investment opportunities that should continue to gain value over time, especially as many workers are finding that with working remotely they need more room and need to move. Because of these reasons, residential real estate is one of the safest investments in the industry.
Location Location Location
When investing in a property, whether you intend to renovate and flip it, or to keep it as a long term rental, you have to do the math to make sure you are going to get a good return on your investment. One of the best ways to ensure that you will have ample opportunities to get a reasonable return on investment is the home's location. Remember that the location needs to suit the type of people you are likely to rent or sell to. For instance, if your property is a condo likely to be purchased or rented by younger people, you want to pick a location close to gyms, local bars, restaurants and public transportation. If you are buying a home in the suburbs though in the hopes of attracting families, consider things like public parks, local grocery stores, and good schools. Consider who you want to target and what they will be looking for before making the important decision of where to invest.
You Are Going to Spend a Lot of Upfront Money
For the first time in a long time, many mortgage lenders are demanding 15-20% deposits as a result of COVID-19. If you are a cash buyer, this won't be a concern, but if you are relying on taking out a mortgage for your investment, this could be important. If you are in a position to offer a high deposit straight away, then you will be in a strong position. These substantial upfront costs could be a deal-breaker for some investors, so this is something to consider before starting the process, and definitely, something to research before you act.
Send me a message – I'm here to help.
Contact Our Team 214-636-7138